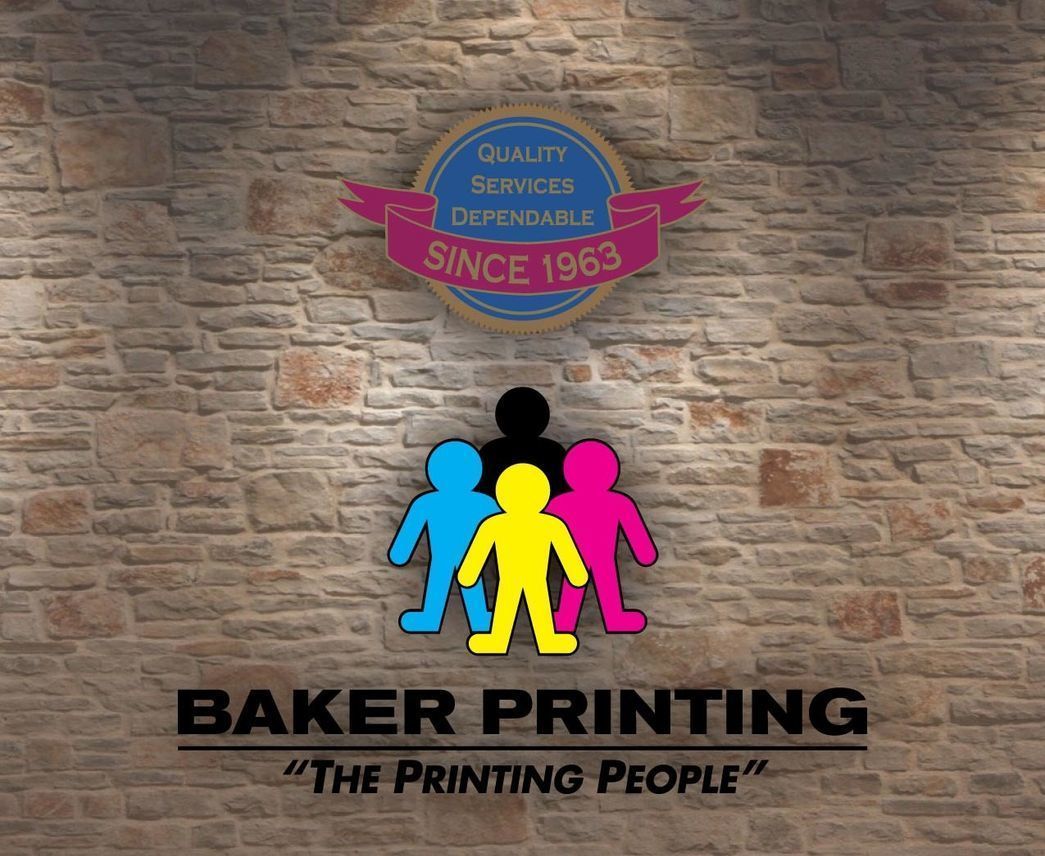 We love what we do. The passion we have for our work compels us to become personally invested in our clients' projects. We constantly strive to deliver the highest quality products possible.
There is great satisfaction in delivering a finished product that helps a client reach their goals and objectives. To learn more about our approach to customer service, follow the provided links.
Baker Printing's Mission:
• To fully satisfy the needs of our customers, helping them to grow and prosper in their particular endeavor.
• To educate our customers in the area of quality printing, joining their individual business team.
• To produce craftsmanship of the highest quality at a competitive market cost.
• To offer personal and timely service to all of our customers.
• To encourage the individual growth of each of our employees, personally and vocationally.
• To motivate unity among all personnel and encourage quality of interpersonal relationships.
• To glorify the Lord Jesus Christ in every aspect of production, sales, and management, showing His love to all of our customers.
Baker Printing's History
Baker Printing Company Inc. was founded in 1962 by Jack and Martha Bishop and since then has grown to become one of the largest and most prestigious commercial printers in the state of Louisiana. We have been honored by visits from political dignitaries such as Governor Foster, Bill Bennet and Bob Dole as well as by delegations from other countries.
We have received national awards from the Printing Industry Association (PIA), Printing Industry Association of the South (PIAS), Plainwell Paper Company, and Strathmore Paper Company. Baker Printing received a 2001 State of Louisiana Lantern Award for manufacturing growth, and a Governor's Pace Setter Award.
In 2002 we were honored with the Douglas Manship Torch Award for Business Ethics, while in 2003 the Better Business Bureau awarded us the International Torch Award for Marketplace Ethics. The James C. Dobson Award from Focus on the Family was given to Baker Printing for communicating the positive message of Family. One of the most treasured awards is the Eagle Award presented by Liberty Cards. This award is normally given to a division within their own company, rather than an outside vendor.
Year-after-year, we at Baker Printing have been recognized not only for our printing excellence, but also for our civic and humanitarian accomplishments. We stay involved in the community by donating printing and sponsoring events or participating in organizations. Representatives of Baker Printing have served, and are serving in leadership roles in various community organizations such as the Baton Rouge Chamber of Commerce, Board of Directors Printing Industry of America South, Ad Federation of Baton Rouge, CEO's, Rotary Club of Baker, Baker Chamber of Commerce, Associated Builders and Contractors, Louisiana Family Forum, Sales and Marketing Executives (SME), Cancer Relay for Life and the Better Business Bureau 2004 judges panel for the International Business Ethics Award in Virginia. Currently two employees are on the Design Advisory Board of
Delta College.
Our facility is one of the largest and most modern in the state with over 21,500 square feet of working space with an additional 8,500 in offsite warehouse space. In-house we have Pre-press, Press, Bindery, Business Mail Processing, Signage, Fulfillment, Digital Printing, Letterpress departments, and offices for management and sales associates.
We're proud of the strong roots we've built in our community. We've been around since 1962 and we will continue to be your complete source for business communications. We will keep challenging ourselves to stay on the leading edge of technology so we will be we ready to meet whatever requirements our clients may face. We launched this Website to make it easier for you to request estimates, place orders, check proofs, or transfer files on-line. We hope you will find it both helpful and convenient.